What do you do to celebrate the ending of your University days? You celebrate by having a meal in one of the most expensive and posh restaurant in London, Mayfair. (remember where Mayfair is on the Monopoly board!)
Nobu is targeted towards company executives and the more higher-classed people, but we thought we could pass as one since, after all, we are graduates from Imperial College… Well, at least that's true for the others, my turn comes next! Knowing an average meal would cost around 30 quid, all of us had to thicken up our wallet and dressed poshly, just in case we looked too "informal" and get shooed away 😀 So here we go, into Nobu, not just any restaurant students would go to… 😉
Take a good look at the breathtaking interior design in the restaurant
I blanched when I opened the menu. True, the menu can make you salivate until you flood the room (take a look here) but still, the cost of everything is about 3 times of the ones you get in an average japanese restaurant! Service was very, very good, although they greeted us in bad japanese (I don't ever think the ang moh's can actually pull of the japanese accent, oh well). Anyhow, the others ordered the Bento Lunch Box which contains the specialties in Nobu: that costed 25 pounds each. I, feeling all prim and proper and really in the mood, went for the Omakase: Chef's Choice which showcasts the essence of Chef Matsuhisa's cuisine. How cool is that?! Of course, it came not without a price tag of a whopping 50 pounds! So now, just enjoy the pictures to come as the waiters served our food…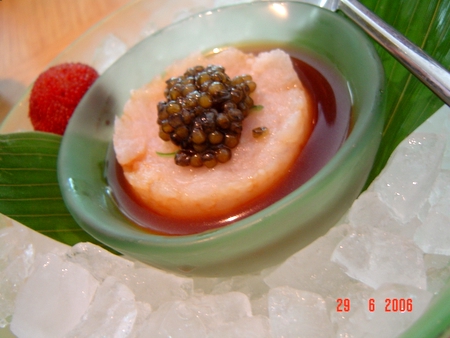 My Starter: Yellowtail Tartar with Caviar
The Yellowtail meat was chilled and sweet, drowned in cold soy sauce and topped with some bittersweet caviar. All in all, it whets the appetite for the next meal. Beautiful.
Second starter: Tuna Tataki with Ponzu
This was more savoury, as the raw tuna was served slightly charred on the sides with pepper and served with the Ponzu sauce (sweet with a hint of sourness). The prawn just served to counter the sourness of the dish.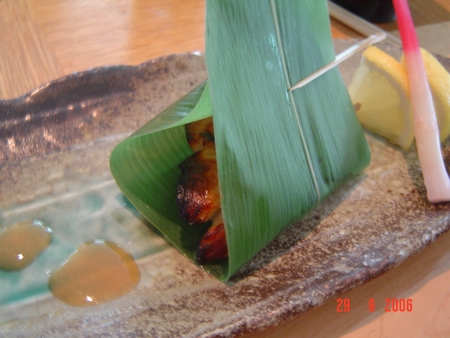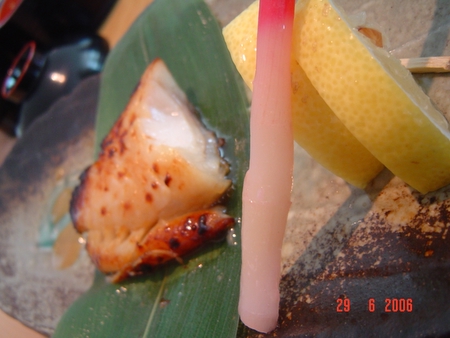 First Main: Black Cod with Miso
Priding themselves with possibly one of the best dish ever created, the Black Cod was beautifully chargrilled to perfection with a tantalising marinade that I can't quite make what it is. Overall one of the best tasting dish, as the Black Cod contains more fats (that's Omega 3 fatty acids) then the white cod, so it tastes much creamier… YUM!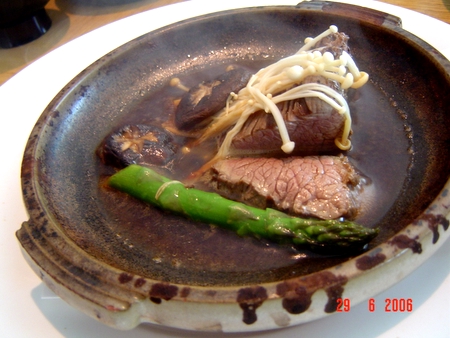 Second Main: Beef "Toban" Yaki
This beef originates from Japan and is regarded as a First Class beef, where if eaten raw, one could practically feel it melt in one's mouth. This, however, is sizzled in teriyaki sauce along with Shiitake mushrooms to give a subtle hint of sweetish flavoured sauce, which combines to make an unparallel dish! What a way to finish the main course 😀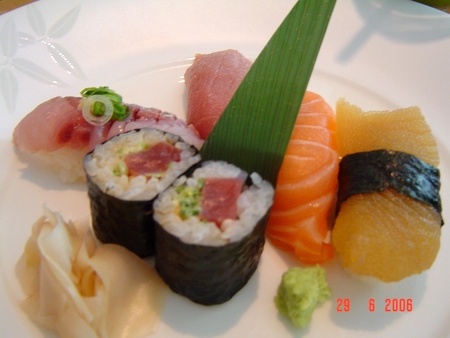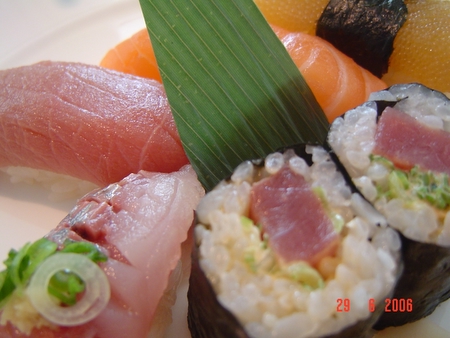 Appetizer: A round of New-Style Sushi
To mark the end of the set, I was given (from left to right) Mackerel, Toro (Tuna Belly), Salmon, Herring Roe and Spicy Beef Maki. Suffice to say while the rest was pretty normal, the Salmon was fresh and meaty, the Herring Roe had a special unique taste to it, and finally, the Toro deserves the credit for having the best texture I've ever had from tuna meat… It practically melted in my mouth since the meat came from the belly of a tuna which contains the most fish fats. Superb!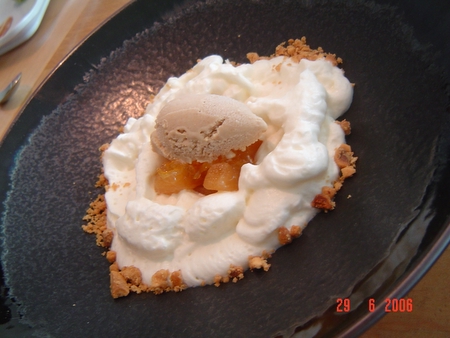 Dessert: Slow Cooked Pear in Star Anise Ice-Cream
Last but not least, dessert was fantastic! Although the Star Anise Ice-Cream wasn't really suited to my taste, I have to say the Slow Cooked Pear was amazingly beautiful as it tasted not to sweet and has a crunchy texture to it. The cream complements it along with walnuts by the side. Very unique style of presentation too! Thumbs up from me =)
The Omakase was ended not immaturely by the Nasu Miso, which is actually Red Miso Soup. It differs from the normal miso soup slightly because it has clams in it, and is red in colour due to an extra ingredient (not sure what). This gave a refreshing aftertaste and certainly fill you up so that you feel satisfication after completing the set. Kudos to the chef for being smart as well as being able to cook well!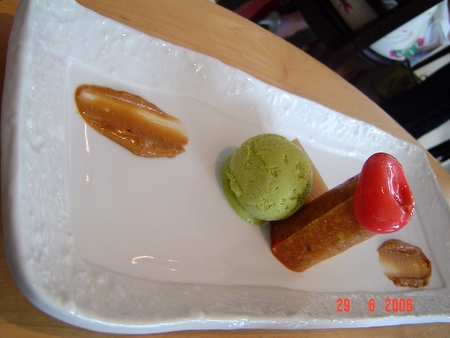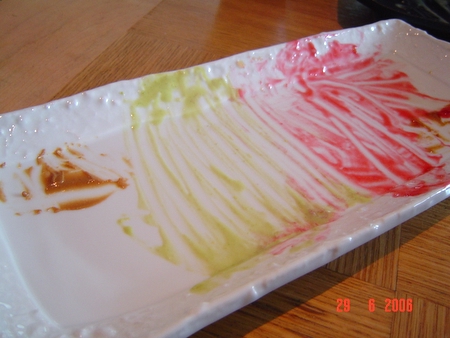 The above pictures shows how "unposh" we were when we tried eating this dessert that contained Mountain Fuji Apple Jelly with Raspberry extract and crust. Tsk tsk tsk, we were lucky no one was staring at us as we swiped the plate clean!
As for the Lunch Bento Box, I didn't think any of the pictures I took gave it justice so I won't be putting it up, although I must say it was a good meal as well. The only sad thing is that I don't have my camera with me, so these pictures were taken by this dude's camera: the one beside me. Notice we looked very satisfied and fat 😀 The girls (2 of them) aren't shown here because I didn't have any good shots of them, boo hoo. Anyhow I wanna thank Wen Tao, Emily and Ju Ni for the wonderful meal!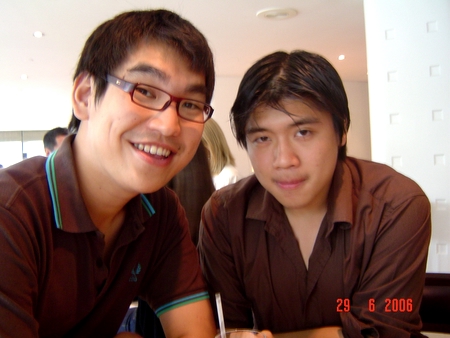 But of course, nothing is complete without a picture of the bill. I'll leave it to your imagination to what we would look like after taking a good look at it. Notice the service charge as well. Ah well, living posh must obviously come with a price 😀 Good day to you guys, and careful not to drool on your keyboard when you reread this post!!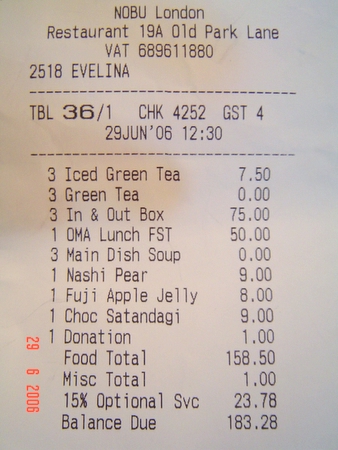 Boo! And that's almost RM1300 for people in Malaysia!