What a day it has been! My roommate, commonly known as Liu Bo ( to which he insist that there's a connection between him and the Gold Medalist Liu Xiang from the Olympic's Hurdles ) has prepared a dish called Congee, which I assume is the same as Chinese Porridge, but oh well we'll let it be as he says. For a first timer, he really has done well! The following are his details and pictures of the Chef himself together with the scrumptious dish!
Name: First-Time Chef Liu Bo
Objective: He made a long-term promise to his friend that he will teach her how to cook proper Congee, to which he was reminded just yesterday that she's coming down to the UK. Frantically searching in Google on how to cook this traditional dish, he quickly whipped up the required ingredients in China Town, came rushing back and started practising/cooking.
Results: They were fairly good I must say. A tad too plain as I prefered a much sweeter version of it. Solved it by adding banana pieces which added colours to the dish (as if it wasn't already coloured) and the aroma was simply amazing as it was made with traditional Chinese herbs and spices. Recipes will be up as soon as he translates it into English for me. Yes people, ashamed as I am, the truth is that I am a banana, simply put, I am a Chinese who cannot read or write in Chinese. Amazing? Yes. Proud? No.
On with the pictures!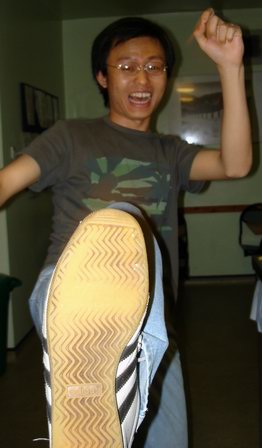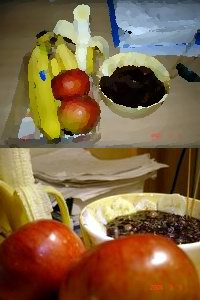 Chef Liu Bo showing his Kicking Skills besides being able to cook!