It was sometime ago when I posted about this dish I made, asking what it takes to make it, right here. It's funny how the idea transpired: I was with this friend of mine, Alvin Yap from my Uni, and as we were one of the last few left who was still in London, so we decided to cook together. Feeling adventurous, I asked him, "Dude, what type of cuisine do you want?". Before waiting for a reply, I recalled having a blue bowl (which you will find in the pics) that would be perfect to make Bibimbap, but ala Tock of course hehe… but first, let me summarize what I've posted and remind me what a lazy bum I amwhat I promised but haven't done yet.
Okay then, without further ado let me present to you…
Making of Seafood Bibimbap V0.2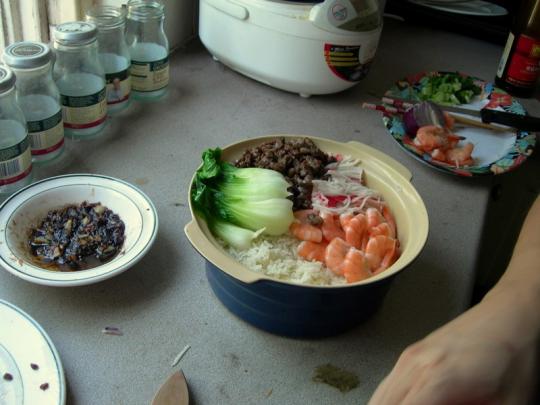 The cooking process itself was done in the following manner
1. The mince lamb was marinated, fried and laced with brandy which was then flamed to give it a charred, sweet taste
2. The Pak Choi and stripped crab sticks were boiled lightly in salted water and then strained.
3. The Rainbow Trout fillets were fried til golden
4. Two eggs were half-boiled to top the dish
5. These were then arranged accordingly: as defined by the dish itself
Do remember that every picture in this blog can be clicked on to enlarge it, cause some things are just worth it 🙂
Wanna say something?