I've heard so much about Bangsar Village but regretably I have never step foot into its premises. One fine day I decided to take a stroll and maybe grab myself something nice to bite…
I stopped on my tracks as soon as I was outside Mizu, a fine dining Japanese restaurant, boasting an exterior befitting its "fine dining" status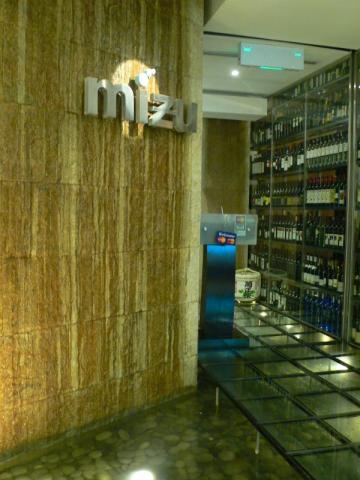 The front entrance is decorated by FALLING WATER along rocky walls, ending up flooding the floor below filled with soft, round stones. See-through glasses top the deck such that when you walk into the restaurant, it's as if you were walking upon the water, with the soft sounds of trickling water surrounding you.
I went in alone, with my camera. I was dressed up smartly. It was no mystery, then, on why the waitress paid great attention to my needs, thinking I was a food reviewer. I could still remember her face as I quoted my order right from the menu without opening it (I've actually studied it outside when nobody was looking). She was a tad bit disappointed though, when I just ordered a three-piece course: Mizu Fried Rice with Foie Gras, Seared Salmon with Butter Sauce and a glass of Honey Dew Juice to whet my larynx. Well, I would have wanted to order more if it weren't for the hefty price tag they place on their dishes.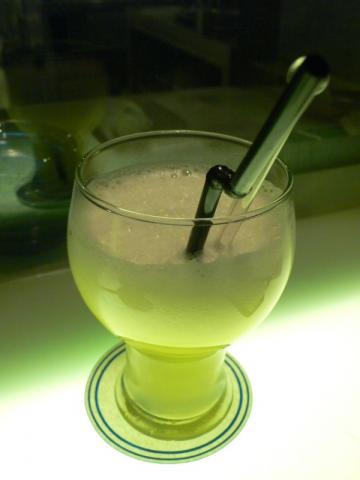 My Honey Dew Juice arrived first, in a dismal portion for the price paid. Nevertheless you could tell its freshness so I gave it a pass. On a different note, the straw that first came with it was faulty. Before I could grab the waitress's attention, there was a chef who obviously saw my expression as I found the problem on the straw, and immediately came to replace the faulty straw. Talk about great first impression!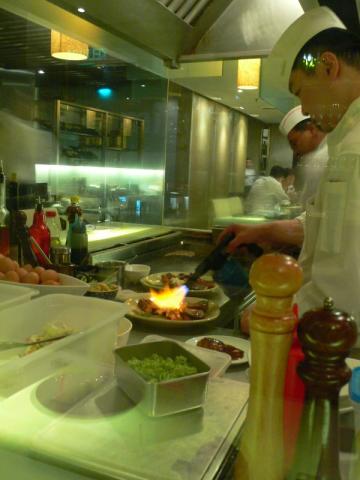 While waiting for my food, I was checking out the interior of the restaurant. Impressive and classy, as to be expected. From the outside looking into the Teppan Side, I could see the chefs meticulously cooking the dishes and painstakingly arranging it with a purpose to whet your appetite even before tasting it. This picture shows a chef blowing fire across a dish, intending to melt the cheese no doubt. Visually pleasing, I must add.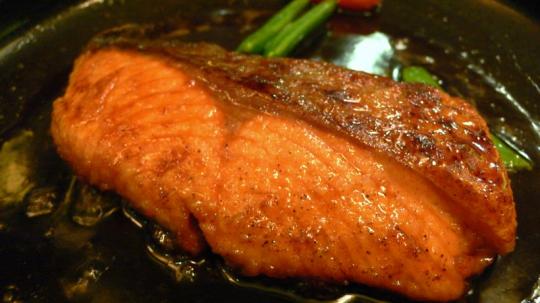 First comes the Seared Salmon with Butter Sauce. As I tentatively checked for inconsistencies on the meat, its smell wafted across my nose giving a sweet scent with a tad of butterish flavour, and that definitely pleased my nose. In a bite, I could see why they are proud of this particular dish: its meat, though it's clear that the outside is lightly crispy, still retains the smoothness of how cooked salmon should be. The sauce, though a tad salty, was an amazing addition to couple the fish (a great ratio between butter, teriyaki sauce and probably other ingredients known only to the restaurant). I have to say it was a particularly amazing dish!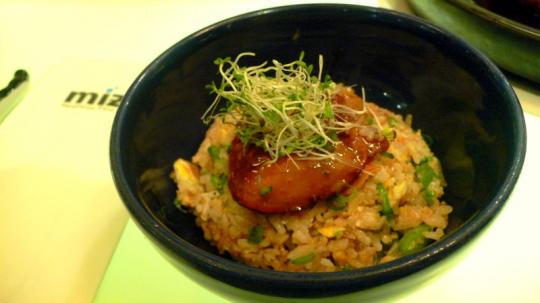 When the Mizu Fried Rice with Foie Gras was served, I was disappointed and I sure showed it well. Apart from the dismal portion, one could tell that the Foie Gras wasn't meant to leap out at you. In other words, you could have ordered Fried Rice and Foie Gras separately and combine it into one dish. For the price I paid, this dish was extremely disappointing. Credits to its taste, there was nothing wrong with the Fried Rice, but nothing special either. The Foie Gras, though still delicious, was apparently too pricey for its size and not quite as tasty as it should be. All in all this dish doesn't get a high rating from me, and I made sure it showed on my expression.
Hence that was the end of my review. I soon took my leave, and wondered if I'd ever bring someone back here for a nice coupley dinner. I shook my head as an afterthought. Nice ambience, delicious food, but certainly not worth the value of money that I paid for. Oh well, I guess I'm gonna head out next soon enough to spoil my stomache again (in a good way of course) *wink*

Coming Up Next