They say a way through a guy's heart is by their stomach… So it's no joke when 3 freshly roasted ducks became the source of reason as to why the lengmous' (aka Boss Stewie & Boss Lepton) decision to continue blogging for the world!! Three cheers for the Bosses!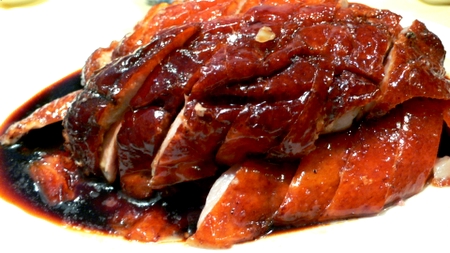 Initially I really wanted to beat Boss Stewie's record of 5 ducks for 4 people… That's a whopping 1.25 duck per person! Unfortunately Qi Zhen decided that he doesn't want to spend so much money we decided against it and settled for 3 ducks instead, to feed 5 people. That's just 0.6 duck per head, not good, not good at all 🙁 Still, we had 2 tau foo dishes and vege to go with it which makes a very yummy dinner!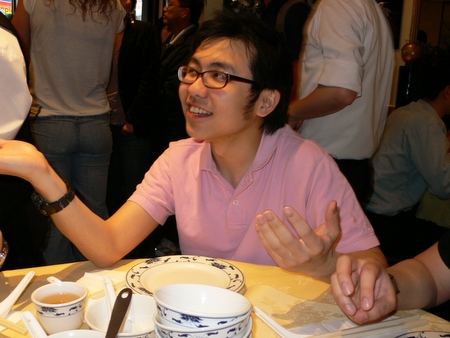 That's Qi Zhen saying "Me no money for ducks, but if Boss Lepton chiang then lai lai ducky ducky I wanna eat youuu!"
So here we were, at Four Seasons (again!) and having the time of our lives eating ducks, which turned from this: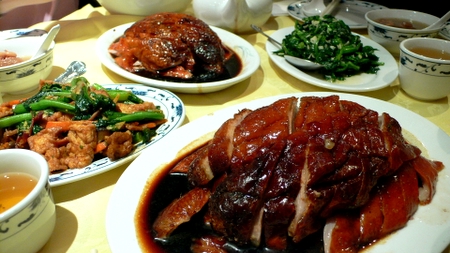 to this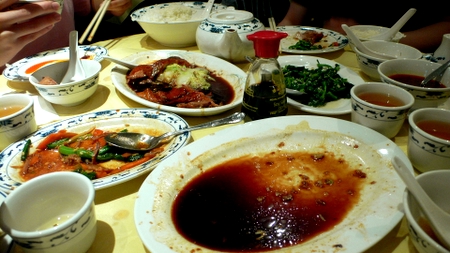 in less than 20 minutes… hence we thought that we should proceed to order another tau foo dish (a boss stewie favourite) and another whole roast duck! Crazy? I know!
To commemorate this highly auspicious event, I even presented the Bosses with free tickets to any movie at any VUE cinema, for anytime and day! Perfect for a little "catching-up" ya know? That is, with Boss Stewie's gay tendencies I mean 😀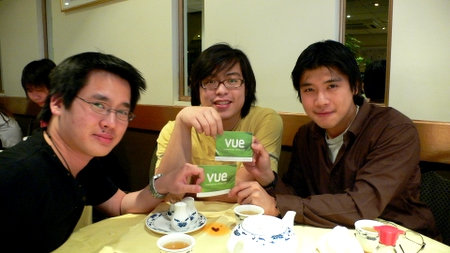 We finally ended the day (and effectively my last outing with the Bosses EVER in London) with a group picture, consisting of (from L to R): Boss Stewie (fatty), Boss Lepton, Me, Zhon Wei & Qi Zhen.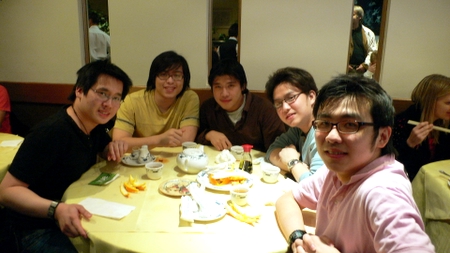 Life is certainly very good these days

I can't wait to see what's in store for the future… although it may be riddled with problems and whatnots, I will always cheer up thinking of these silly things that happened in my life (which incidently, one of them, I found out, was that Boss Lepton has a very scary way of walloping oranges like yam-ing sui only… we had to fight the oranges off him!! :wink:)