Okay, so here's the gist… We have Stewie a.k.a Ewe Tiam ignoring me, pretending to be away whenever I want to have a go at him (he's handsome) and now he's feeling all guilty and trying to apologize with the bottom of his heart. Well, you can't really apologize "with the bottom of your heart" literally, I mean, hearts can't talk, can they? Oh wait, what's with the "bottom of your heart" phrase anyway? Does a heart really have a bottom? Hmm… Maybe it does, lessee: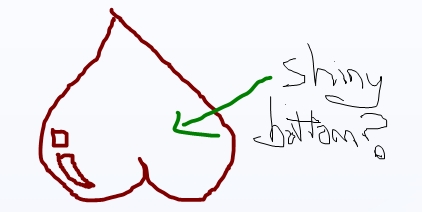 Notice with the genius intellect I have, I rotated a heart by 180 degrees, and EUREKA, you get a BOTTOM! Hence I have proved that all hearts have a bottom, Q.E.D.
…
Okay, anyway….. I was kidding about the top bit. No, not that he's not handsome, but I don't want people thinking I'm gay.
No, honestly, I'm NOT gay.
Shaddup.
So anyway, I was just getting to the most interesting part. He says that if I don't add his link on my blog, he was gonna do something terrible to me. THEN he proceeded to give me this link [ http://lengmou.blogspot.com/2005/11/rate-my-shit.html ]
…
I think I've said enough. Stewie dear, I salute you.