Guys who bake are sissies
I continue to support this motion till this very day. Fortunately for me, "baking" cookies don't come any nearer to the term "baking" we used in the quote above. Frankly speaking, we found out the secret to making a perfect cookie was to, in fact, FRY it. 😀
Obviously to start with the dough must be in a perfect condition. Simply put, a cookie dough should look *just* like this: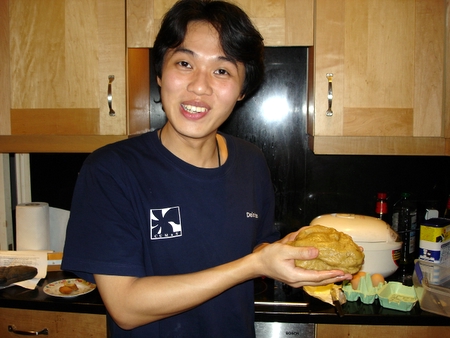 Sui Seng, my partner in crime, shows how it should look like!
(a pile of fresh excrement)
Now then, a perfect timing for oven baking is crucial as well. So is positioning the cookies so that they are evenly spaced. But most important of all, we need to have LOADS of sprinkles on top. That's OUR way of making cookies 😎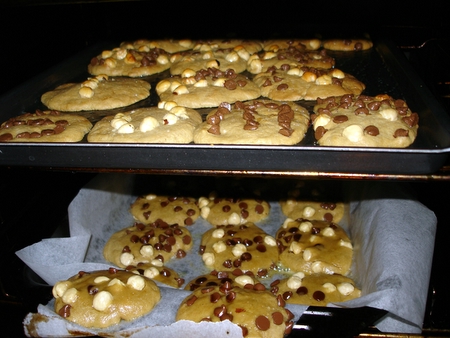 Notice the grease paper, our secret tool of trade 😉
This picture should give you a fairly good picture of how went our efforts went. With none to no hassle and the usual uncertainty we get from the fairer sex, it is safe to say that in the end, us guys will always overpower them in Cookie Making… I mean, hey, Famous Amos ain't famous for nothing!! 😈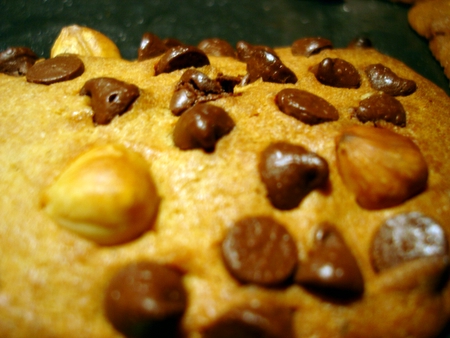 Freshly baked from the oven, crispy and brown and loaded with chips 😉
Wanna say something?