Yes you heard it right… This day today, as a good friend from Cambridge came down to stay with me, we've come across so many things that are likely to be found else where.
Not only did we manage to get our cookies baked, in fact, there can be nothing better to describe such an occasion but to show you by the nook: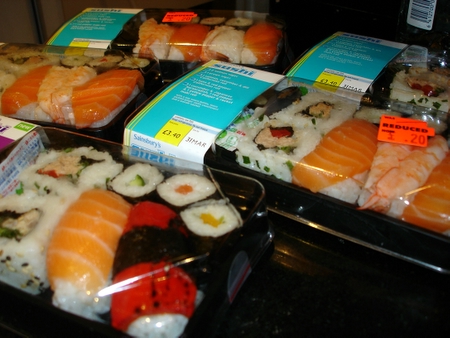 *sparkle**sparkle**sparkle**sparkle**sparkle**sparkle**sparkle*
Truly, such an occasion is to sigh for, to cry for and to die for. Never in my life have I found my one true love coming in such a price like this… Absolutely astoundingly and amazingly atrocious! This day will be the day that will be forever recorded down in my history of Random Life!
Just for the records, this is how it went:
Original Price = 5 x £3.40 = £17.00
Reduced Price = 5 x £0.20 = £1.00
Money Saved = £17.00 – £1.00 = £16.00
Converted Into Malaysian Ringgit = £1.00 == RM7.16590 (Thanks to www.xe.com)
For your information, that's about the cost of 3 pairs of Salmon Sushi at home… And the quality at Sainsburies is not something you can shrug off (not to mention their high-graded wasabi material too!) I'm munching into one of them right now… and I can't begin the sweet orgy that's happening in my mouth…. 😈