I've noticed from my colleague's blog that there is a hype around: the new Linspire. Well, to be honest it's not very new, but for some reason the fact that it is FREE and it looks like WINDOWS has made it quite popular, or so it seems. All you have to do is to put in "LINDOWS" in the Coupon Code and you'll get an entire $49.95 off… making it free!
Oh, who am I kidding… It's the main fact that it's just FREE with a big F R double-E 😀

See? F – R – E – E!
For those of you who don't know, Linspire is a stripped down version of Linux, an open-source Operating System that rivals Microsoft Windows. But because of it's highly geeky interface, it is highly sought after by professional users and less hunted by the rest… I mean, what average guy would replace "simplicity & sweetness" with "complexity & headaches"? Just joking guys =) In any case, introducing Linspire, a hybrid between a Linux system incorporating most of Microsoft Windows' ease of use. What more could you ask for?
Finally, I add on this little piece of information below for a certain someone who's an avid debian user… Great, ne? 😉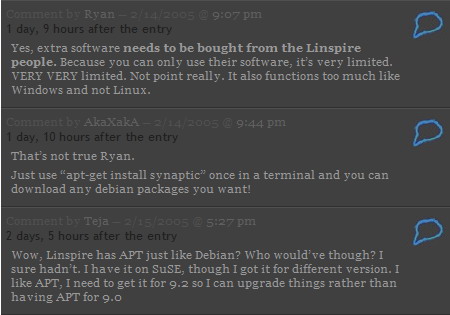 Notice that it can easily install debian-type packages 🙂