Pictures speak all… I really want to give my thanks to everybody who got involved, ALL the freshers and seniors who came, mainly the Beit Hall gang, who are Liwan, Jun, Suemay, Logan and Matthew, my KTJ friends, who are Cheah Wen Tao, Stefanie, Sumithra, Sui Seng, Tong How and Jennifer, the best flats ever, Flat 37, who are Wei Kiat, Conrad and Ali, and Flat 54, who are Chien Liq, Nicole, Yanti, Sherin and Qi Zhen, and also to my Nottingham bestest pal, Keat Kuang.
Special thanks go to Wen Tao, for always being there and getting me the biggest cake I've seen in London (was almost devastated when he lied to me that he wasn't coming!), to Chien Liq, for being the "inviter" who was responsible for 3/4 of the people who came, both freshers and seniors, to Liwan for getting me a Harrod's cake (with no chocolate, yeay!! But I want home-made next time kay? *hinthint* :grin:), to May for succesfully making a fool of myself and for making her specialty Mash Potatoes *juz* for me *winks* and to Nicole & Yanti, for making me a custom-made Tiramisu cake WITHOUT chocolate!! I have to mention Sherin too, as she's responsible for me not getting hungover the next day after all those shots and 3 pint drinks and JeeKwan/Alwin combos!


Beit Hall Gang – Without Jun 😉

Food from Royal China – Darn ex!!

Mmmmm more food! Guys I seriously think that I should pay too!!

Keat Kuang and his Panda Bear

All trying to delay me from going back.. into the surprise party!

"Caught you!" – The Surprise Party ala CL's place!

My three beautiful cakes! Love you guys! muacks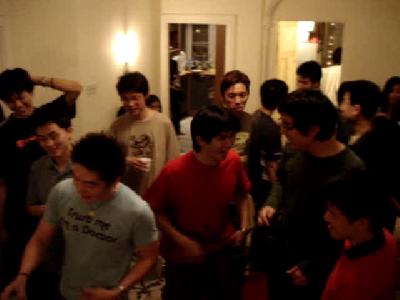 To the Crowd!

ere's me… Fat d.. A toast to all of you who came!