They say " an apple a day keeps the doctor away ".
I say " a little sushi takes me far more further away " .
Here's a poem I thought of while enjoying a plate of sushi roll in Little Japan, London.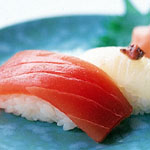 A sushi a day in a
faraway land
,
With bright red salmon topped with a tan,
With rice below, oh ever so mellow,
A guy can fly his fiver or ten.
Oh why does it make me smile,
A simple gesture, a simple style,
It's flesh glittering, it's rice oh so shining,
It suggests that I buy a big pile!
Does anyone know why I wrote this poem,
In a day where there's not much sodium?
I shouldn't do this, nor should I take a piss,
Cause I think there's something wrong with my cranium.
.
.
Speechless? I should think so. Now get a move on, we don't have all day!