Wow. That was an amazing pun. I know it's been ages since I last updated but it was partly due to the Malaysian Student Leader's Summit event that took place last weekend. I don't really wanna waste time uploading pictures so you can view them on my facebook profile, here for part 1 & here for part 2.
I've just followed my aunt to buy herself a Wii, hence the title on top! It was fun learning abt the Wii from 4 different vendors in SungeiWang, but in the end it was the one recommended to my aunt that we bought from, albeit more on the pricey side. After selecting a few more accessories and games (which, by the way, were packed in a very dodgy way!) we headed for home (her place). Setting it up was fun, testing the Wii-mote for the first time was fun, accessing menus and the Mii's were fun too but we weren't prepared for the lousy game DVDs that we chose; they didn't work!! Fortunately all it took was some cleaning and bending, and we were on our way to having a Wii-Time hhee 😀
Actually, I lazy la to write about it now ho ho ho. Basically we played quite some games, and in the end I loved Wii Sports the most… I'm damn good in Wii Tennis, okay okay in Wii-Boxing and found myself lacking the talent to play Wii-Bowling (which I must inform you I have been practising in real life, scoring average 120 kay!!)
The next post will be, once again, a series of pictures that wouldn't do any justice to the events I have been to. Let me write here what I've been through since the last post in Chronology order, both for my reference and for your kaypohness hehe
Pre-Post

Post-Post (no pun intended!)

1. Spring in Hyde Park
2. Projek Amanat Negara IV
3. Dinner in Love Cafe
4. GCC Careers in Africa
5. Fara & Ray's Salsa Danca!
1. Ibiza Trip
2. Bibimbup
3. Live Earth
4. Summer after Graduation
5. Food Review: Reach @ Damansara
6. Karaoke Session
7. New Addition to the Family
8. Blogger meets!: Clem, Mochii, Kyliemc, Splashmilk, Koyuu
9. Malaysian Student Leader's Summit
Anyway, here's a series of photos of my dramatic life to entertain you =P
Ooooh, pick up line of the day:
Male: What about the park?
Female: Cannot, park too hot.
Female: I will melt.
Female: Then you have to pick me up from the ground.
Male: Oh? I just happened to love cheese fondue 😀
And finally, look who I met during MSLS! *beams*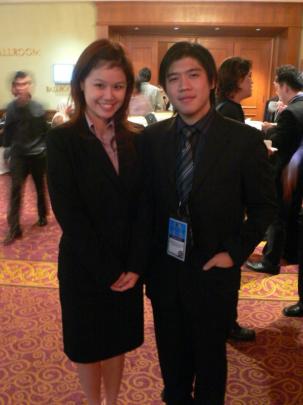 I don't really follow her blog, but she's popular no? lol… Eksyen man haha… read what she wrote on MSLS here
Wanna say something?